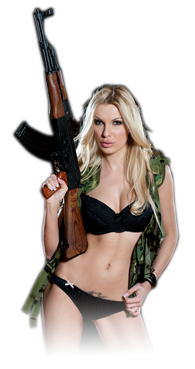 We invite you to visit our indoor shooting range located in Warsaw, Krakowiaków 80A street. Here, in a safe environment and friendly atmosphere you will be able to see the firearms in practice and give in to the passion of shooting. Shooting is a great way to spend free time, and for many people also a hobby. Our modern shooting range has twelve firing tracks equipped with target conveyors.

Shooting takes place at distances of 10, 15, 20 and 25 meters. We also offer a dynamic shooting at targets hung on rotating posts. We offer a wide selection of weapons, ranging from small caliber 0.22 arms, through a series of pistols in 9mm caliber and .45 ACP, .357 Magnum and Magnum .44 revolvers. Rifles from the Kalashnikov AK-47 to Heckler & Koch SL-8. We are one of the very few to offer you an opportunity to shoot automatic weapons, such as croatian VHS, AKM Kalashnikov, russian PPSz and many others!

Our arsenal is constantly being expanded, so we encourage you to visit us frequently. If you've always wanted to try shooting real firearms, or would like to spend time in a relaxed atmosphere, try something new and unique, PM Shooter will satisfy your adrenaline needs. Everyone can shoot both adults and children in the presence of a parent. Shooting is also a perfect gift for a boyfriend or girlfriend, if you require a special setting for this opportunity, please contact us. We would be happy to help in the implementation of the bachelor party, 18th birthday or the occasional gift. Our smiling and helpful instructors are waiting for you.

We can provide transportation , mini-buses, limousines.




Prices for individual clients:

The entry fee required from each person shooting - 30 pln (without time limit).

In addition, amount for used ammo (all prices for a single bullet).



caliber. 0.22 LR - 1,50 pln
caliber. 0,22 LR subsonic - 2,50 pln (KelTec CP33 pistol with silencer)
caliber. 0,22 WMR - 6,00 pln (KelTec CMR30 rifle)
caliber. 7.65 Browning - 3,50 pln
caliber. 9mm Para - 3,00 pln 
caliber. 9mm Short - 4,00 pln (Beretta 84 FS pistol, Ingram "Snake Plissken") 
caliber. 9mm Makarov - 3,50 pln 
caliber. 9mm Para (P-08, Walther P38, Glock 17C, Bul) - 4,00 pln
caliber. 9mm Para (CX4, Ruger PCC, MP5, Rex Zero Supressed, Canik Supressed) - 5,00 pln
caliber. 9mm Para (Glock 18 C, MP 34, X-Five) - 6,00 pln
caliber. 0.45 ACP (COLT 1911, Thompson) - 5,00 pln 
caliber. 0.45 ACP (Scandium) - 6,00 pln 
caliber. 0.38 Special - 4,00 pln 
caliber. 0.38 Special (Chiappa Rhino Gold revolver) - 10,00 pln
caliber. 0.357 Magnum - 4,00 pln 
caliber. 0.44 Magnum - 6,00 pln 
caliber. 0.454 Casull - 20,00 pln 
caliber. 0.223 (5,56x45 NATO) - 5,00 pln 
caliber. 0.223 (5,56x45 NATO) Tavor, Carmel - 6,00 pln
caliber. 0.223 (Grot full auto) - 7,00 pln
caliber. 0.223 (Haenel CR223) - 8,00 pln
caliber. 5,45 x 39 mm - 5,00 pln 
caliber. 7,62 x 39 mm - 5,00 pln
caliber. 7,62 x 39 mm (Beryl S762, Sa Vz.58, AK full auto, AR Mutant) - 6,00 pln  
caliber. 7,62 x 25 mm Tokariew - 3,50 pln 
caliber. 7,62 x 51 mm - 7,00 pln 
caliber. 7,62 x 51 mm (FN FAL) - 10,00 pln 
caliber. 7,62 x 54 mm R (Dragunov, Mosin-Nagant) - 7,00 pln
caliber. 7,92 x 57 mm Mauser  (Kar98) - 7,00 pln
caliber. 7,92 x 57 mm Mauser  (ZB VZ.26) - 8,00 pln
caliber. 7,5 x 55 Swiss (Sig M57) - 10,00 pln
caliber. .30 Carbine  (M1 carbine) - 6,00 pln
caliber. .303 British (Lee Enfield) - 7,00 pln
caliber. .30-06 (Garand) - 15,00 pln

caliber. .303 British (Bren) - 8,00 pln
caliber. 7,92 x 57 mm Mauser  (MG 42) - 10,00 pln 
caliber. .30-30 Winchester - 10,00 pln
caliber. 7,62 x 54 mm R  (Goriunov, DPM) - 8,00 pln
caliber. 7,62 x 54 mm R  (PKM) - 10,00 pln
caliber. 0.44 Magnum (Golden Desert Eagle) - 40,00 pln
caliber. 5,7 x 28 mm (Fort-28) - 10,00 pln
caliber. .45-70 Govt. (BFR Revolver) - 30 pln
Shotgun - 5,00 pln
Shotgun Tavor TS12, MH-12 - 6,00 pln


Unlike every other shooting range, we can create a custom shooting package just for you to meet your budget and weapons choice! You do not need to stick to the predefined shooting packages that other shooting ranges offer. If you wish to order a custom shooting package, just send as an email.

This email address is being protected from spambots. You need JavaScript enabled to view it.

Call to arrange your visit today:

tel. +48 501 095 116


We accept: